The wedding day is one of the most anticipated moments of the couples life! It is a moment to share and celebrate love together with the most important people like friends and family. Emotions, which the couple experiences during that day are worth capturing for longer with a photoshoot.
Cooperation between the newly weeds and the photographer has to run smoothly during the day, so it is worth discussing the ideas and approach in advance. If you are planning on making a photoshoot it is great to involve some unique ideas – which will make the pictures more interesting.
A few ideas that involve pyrotechnics are a great way to get just a few shots, which will leave everyone speechless.
One of the very simple, yet effective props for the wedding are sparklers. They come in all variety of lengths and burn a bit differently. Those small fireworks are burning with small sparkles coming out from the flame, which creates a very nice and soft light. You can use them as an addition to the couple's photoshoot or involve the guests in the process.
A great thing is also writing with the light coming from the sparklers. By placing the camera in the right settings you can draw shapes with the sparklers e.g. a heart or couples initials.
Another way to create a sparkle effect around the couple are fountains. Those fireworks shot colourful sparkles in the air, so they can flow all around the place. This effect will work great as well during the main photoshoot as for additional effect during the wedding e.g. the first dance moment. Some of those fireworks are safe to use inside and look great when they are combined with the heavy smoke on the ground. By adding those two elements, the outcome will look magical and are another highlight of the beautiful dance.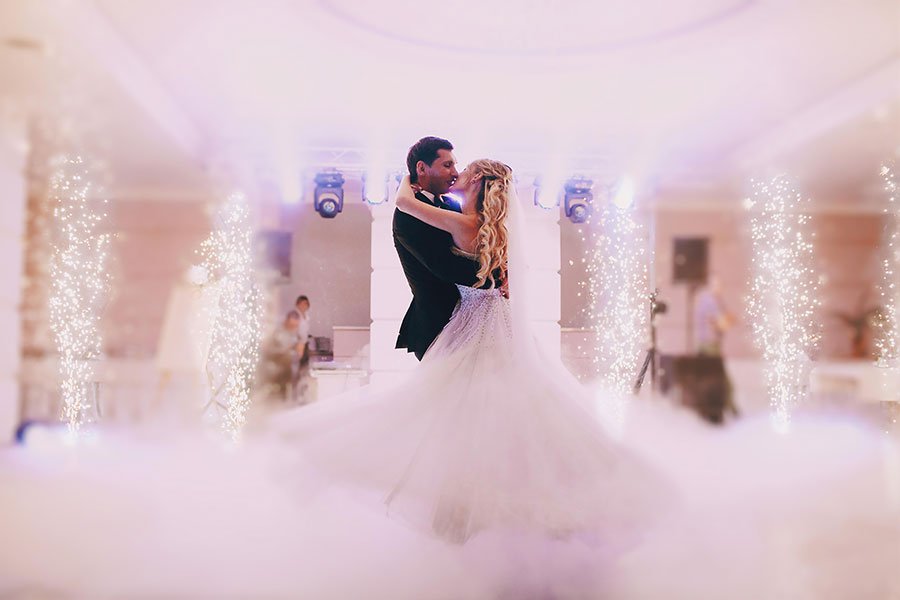 This kind of photos can serve as a great addition to the thank you notes given to guests after the wedding, so they can remember this special day. If you are looking for more ideas for the ideal wedding photoshoot, check the article about using pyrotechnics in wedding photography.